REVERSE OSMOSIS SYSTEM WITH TDS MONITOR AND DI STAGE | RS103TDS DI
$435.00
 NEW!
 A high capacity, elegant  reverse osmosis system with built-in TDS monitor and DI stage for production of high purity water in commercial and residential applications.
Our systems also include for the first time quick change DI cartridges, complementing the quick change pre-filtration catridges.
Booster Pump Optional.
Description
Size Guide
Additional information
Reviews (0)
Description
Description:  Reverse Osmosis System with TDS Monitor and DI stage  |RS103 TDS DI
A 100 GPD reverse osmosis system with water quality monitor and quick connect DI cartridge for production of high quality purified water for residential and commercial applications including demineralised water for sterilisers or high quality water for autoclaves in dental clinics. The quality of water needed for your autoclave will depend on the type of autoclave you are using. The advantages of having  a  reverse osmosis system  combined with ion exchange  is, that it will greatly reduce the costs of running your autoclave system by up the 5 times cheaper compared to a  distiller system.
The RO system includes quick change cartridges  for all pre-filters, as well as the final DI stage.  So no plumber required to come out and change the filters.
Smart microprocessor control system
Now you have an intelligent system that lets you know when you should replace your filter cartridges.  A build-in water quality monitor (TDS meter) monitors the water quality and based on the readings you will know when to replace the membrane.    This enables you to confirm the membrane effectiveness and the quality of your water. These units are ideally suited for commercial environments like medical clinics where the supplementary DI stage ensures high quality demineralised water.
Auto flushing membrane to get the best water quality
Built-in the auto flushing and self-cleaning procedure, so the membrane remains clean.  This prevents stagnant water from building up water or formation of a biofilm- hence keeping the water in the system refreshed and safe all the time!
5 Indicators & LCD display : indicates status
Convenient indicator panel with LED lights confirms status of the system, whether in operation or cleaning mode. Will warn the user when there is a fault or the membrane needs to be replaced.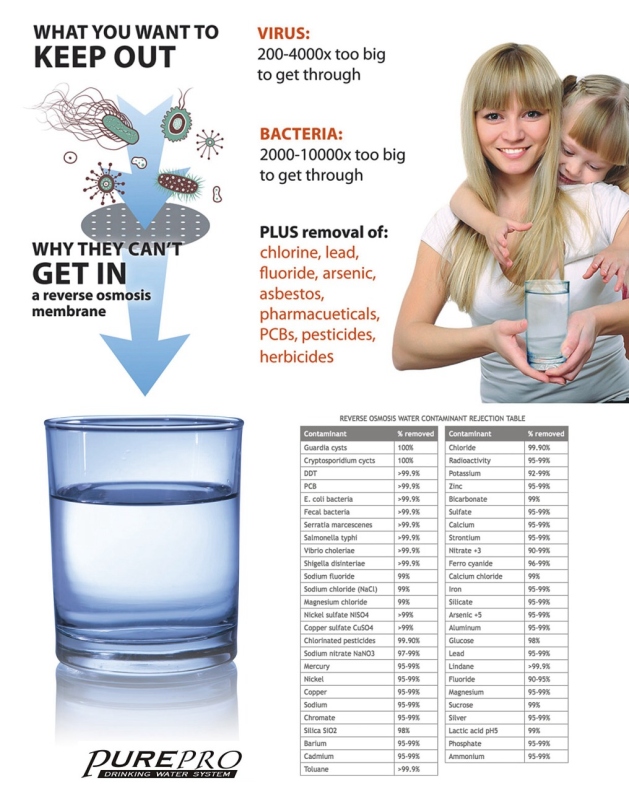 Quick-change cartridge RO system
PurePro® ROYAL RO system uses 100GPD  DOW membrane which is considered the most efficient TFC membranes on the market today. 100GPD membrane increase the daily production capacity and the overall flux rate. This allows for better assurance that there is adequate water available when desired, even during  peak usage periods.  PurePro® ROYAL RO with its supreme quality ensures a great water flow rate with absolutely the least wasting of water.
The newly designed ROYAL RO system is user friendly with design simplicity in mind. It requires no tools for filter changes. The twist and quick-change cartridge design makes filter changes fast, clean and easy.This space saving allows maximum use of your under counter space.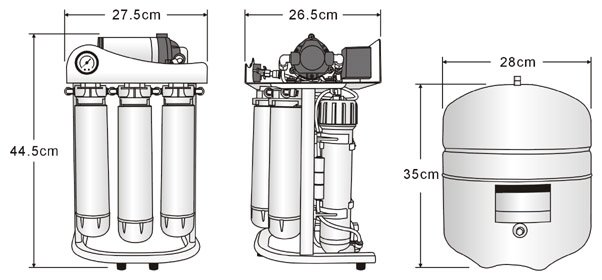 Pressure Gauge
Helpful in monitoring house incoming water pressure, also for operation pressure of the RO system  and monitoring back pressure which indicates the condition of the pre-filters. A drop in pressure would suggest that the pre-filters are getting clogged, and possibly need replacement.
Booster Pump
Optional booster pump for low pressure water supply and ensure optimum performance of the reverse osmosis system.
Easy Installation
The stylish design of the PurePro® ROYAL RO system was created to fit elegantly in any areas with limited space.  The economical, friendly, easy-to-install and easy-to-maintain solution to your purified water needs. The  quick-fitting connector design makes installation fast and easy.

Quick-change cartridge filters (No tools required!)
Replacing the filters on this system is one of the easiest to do. Quick-Change Filter Cartridges make cartridge replacement fast, clean & easy, without contact with used filter material . No Mess, No Fuss with these filters just remove the old ones and install the new filters.
The DI stage is now also a quick connect cartridge-

Features: Reverse Osmosis System with TDS monitor RS 103 TDSDI
100GPD membrane. (Made in USA)
3.2 Gallons NSF Standards Water Storage Tank.
Automatic Shut-off Valve, Flow Restrictor, Stainless Steel Check Valve.
Use twist and quick-change cartridge design makes filter changes fast, clean and easy.
Feed water connector.
Drain Saddle Valve.
Four Color Coded 1/4 inch Tubing for System Connection
Completely Assembled
PurePro® Best Seller Faucet (European Design Faucet).
100% Factory Tested and Sterilised Ready for Installation.
Installation Instructions.

RS-103TDS Quick-change Cartridges
(Stage 1) 5 Micron Sediment Filter :
With only five micron rating. It is effective in removing dirt, rust and sand particles.
(Stage 2) Granular Activated Carbon Filter:
It takes out 99% of the chlorine and organic chemicals. It provides enhanced reduction of taste, odour, and colour.
(Stage 3) Granular Activated Carbon Filter :
It takes out 99% of the chlorine and organic chemicals. It provides enhanced reduction of taste, odour, and colour.
(Stage 4) Reverse Osmosis Membrane:
A thin film composite (TFC) high quality membrane that processes 100 gallons per day. It remove the following hard water contaminants that may be present in your water: lead, copper, barium, chromium, mercury, sodium, cadmium, fluoride, nitrite, nitrate, and selenium.
(Stage 5) Post Carbon filter:
This carbon post filter removes objectionable tastes and odors to enhance the quality of your drinking water. We are using NSF approved post carbon to guarantee the taste of water.
(Stage 6) Quick Connect DI Filter:
Non-regenerable industrial & general purpose deionisation polishing cartridges are designed to give multi meg-ohm quality water for analytical and general laboratory use. The highly purified ion exchange resins will deliver high purity water with a minimum TOC background. Constructed from FDA grade materials and media, these cartridges are designed as a polisher for low TDS feed water.
Additional information
| | |
| --- | --- |
| Weight | 10 kg |
| Dimensions | 60 × 30 × 40 cm |
Only logged in customers who have purchased this product may leave a review.