REVERSE OSMOSIS FILTER ERS-105 HF
$285.00 – $365.00

PurePro® ERS-105 HF
Quick-Change RO system
 Elegant and compact Reverse Osmosis system with high flow of 16 litres /hour capacity suitable for residential or commercial applications for instance sterilisers.
Simply the best of the best !
Change filters with a single 1/4 turn twist ! Much quicker than traditional systems!  Choice of systems with or without booster pump.
Description
Size Guide
Additional information
Reviews (0)
Description
Reverse Osmosis Filter ERS-105 HF
Reverse Osmosis is by far the most popular water treatment technology in use in the world today. No equipment is more effective in helping create ideal water conditions as Reverse Osmosis (RO) units. These units filter out up to 99% of chemicals found in tap water by forcing tap water through a semi-permeable membrane that removes 95-99% of tap water impurities, including Fluoride and Chlorine.  The RO Filter ERS -105 HF is a high flow unit designed  to meet the flow rate requirements of steam sterilisers used for instance in dental clinics .  The instantaneous flow rate is approximately 16 l/hr.
Premium performance, Advanced design, Superior value !!
Best value Reverse Osmosis Filter from trust worthy company for endless great tasting water rejecting up to 99% of chlorine, fluoride, lead, arsenic, microorganisms, pharmaceuticals and 1000+ pollutants

Manufacturer-direct sale from Top Rated USA brand , genuine high quality problem-free and noise-free RO system for both city and bore water.

Made with NSF certified WET parts by American owned factory that is certified with ISO 9000:2000 Quality Management Systems.

Bigger RO membrane square footage delivers 100 GPD great tasting water that fills up the tank faster and is with longer lifespan.   

High capacity storage tank of 18 litres
---
Features-Reverse Osmosis Filter:
100GPD (380 litres per day) membrane. (Made in USA)
4.4 Gallons(18 litres)  NSF Standards Water Storage Tank.( stainless steel)
Automatic Shut-off Valve, Flow Restrictor, Stainless Steel Check Valve.
Use twist and quick-change cartridge design makes filter changes fast, clean and easy.
Feed water connector.
Drain Saddle Valve.
Four Color Coded 1/4 inch Tubing for System Connection.
Completely Assembled.
Long Reach Chrome Faucet (upgrade faucet is acceptable).
100% Factory Tested and Sterilised.  Ready for Installation.
Installation  Manual.
Quick-change cartridge filters ** Quick-Change RO systems are so easy to service !!
The newly designed quick-change RO system is user friendly with design simplicity in mind. It requires no tools for filter changes. Use twist and quick-change cartridge design makes filter changes fast, clean and easy. No tools required for replacements. This space saving allows maximum use of your under counter space.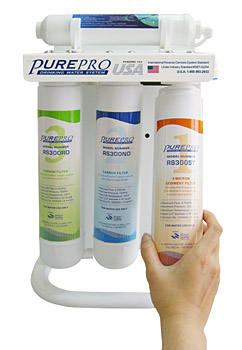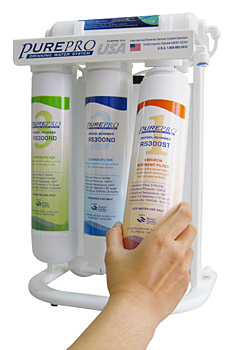 Quick change RO systems significantly reduce filter change time!
Change filters with a single 1/4 turn twist! Much quicker than traditional systems!

Additional information
| | |
| --- | --- |
| Weight | N/A |
| Dimensions | N/A |
| ADD BOOSTER PUMP | NO, YES |
Only logged in customers who have purchased this product may leave a review.